Pickle Ball at KOG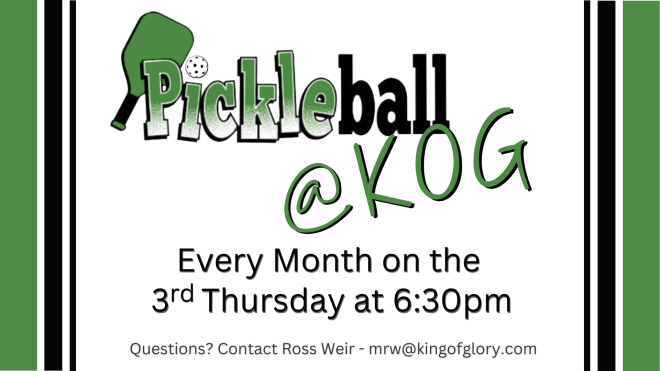 Thursday, September 21, 2023, 6:30 PM - 8:00 PM
Pickleball is the fastest growing sport in the nation. It is just right for people of all skills, all ages, all athleticism – for everyone.
If you have never heard of it or never tried it, you are welcome.
If you are a pro, come on and join us as we will have a court for you – and you can help us out!

The Activity Center will be marked for 2 or 3 courts so you can get plenty of action.
This may lead to a longer term goal of providing ongoing support for Pickleball at KOG. Pickleball players are always looking for places to play and we could be added to the list – and use our facility in another way to boldly share the Grace of God with the world. If you have any questions, please reach out to Ross Weir.
Join us and dive into the world of Pickleball!
Email office@kingofgl​​ory.com if you are interested in participating in or helping with this event.