Click Here to view our Fall Adult Education classes Beginning September 12, 2021
---
SUNDAYS AT 9:45 AM —10:45 AM
Jul 11- Aug 29 | Class will meet at King of Glory
Overcoming Bias
Would you like to understand why it's so challenging to open minds and hearts to new ideas? Join us for this class and dive in to try and understand why the human brain resists challenging new truths and what to do to guide needed messages around the most common obstacles to understanding and action. Join us for this 8-week Adult Education class based on Brian McLaren's ebook Why Don't They Get It? Overcoming Bias In Others (and Yourself). This class will meet in person at King of Glory. Please register to attend.
Teaching Team includes David and Becky Pederson, Pastor Don Berg, Pastor Jon Lee, Nancy Wolff, Linda Ladd, Kathy Bean and Carolyn Knudsen.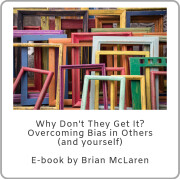 Purchase eBook: www.brianmclaren.net/store/ $5.99
Unable to Make it on Sunday? Watch our Recorded Classes!
Did you know that many of our KOG Adult Education classes are recorded and available to you on AmplifyMedia?
You can sign-up for your free access to this online library here: Amplify Media
Congregation Access Code: KHLRYJ