The Pollinator Garden
Humans, in service to God, have special roles on behalf of the whole of creation. Made in the image of God, we are called to care for the earth as God cares for the earth.
According to Genesis 2:15, our role within creation is to serve and to keep God's garden, the earth. "To serve," often translated "to till," invites us again to envision ourselves as servants, while "to keep" invites us to take care of the earth as God keeps and cares for us (Numbers 6:24-26).

Such caring, serving, keeping, loving, and living by wisdom sum up what is meant by acting as God's stewards of the earth.
- from the ELCA Caring for Creation: Vision, Hope, and Justice
How we got started...
Pre-pandemic, church leadership worked with KOG member Amanda Schulz to design a pollinator garden with the eventual goal of placing it on the National Wildlife Federation registry as a designated wildlife habitat.
Church member volunteers worked together to remove multiple loads of stones from the site. A professional landscaping company then came in and replenished the site with good soil and installed the Liriope border. Several workdays in the fall of 2021 and spring of 2022 brought the installation of plants, sown seeds, and spreading of mulch. A few of the plants were purchased, but most were donated by volunteers, church members, or transplants. To volunteer or donate plants, contact Amanda Schulz at .
UPDATE:
As of June 29th, we officially have a new species in our garden! A gorgeous Salt Marsh caterpillar (commonly known as a Woolly Bear) was happily savoring the tender leaves of our Cowpen Daisy. These are massive caterpillars, at full maturity, measuring up to 2 inches in length. The caterpillars are tricky because they can be a very light straw color, like the one shown, or even dark black with some orange. The tell-tale signs are the "woolly" nature and that a few hairs on the caterpillar will be longer at the head and the tail. This caterpillar will turn into the beautiful moth shown in the included (copy-written) photo by Sharon Watson for BugGuide.net. See if you can spot any Woollies the next time you pass by the garden!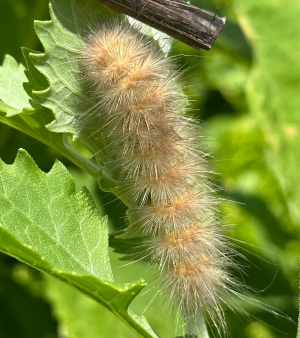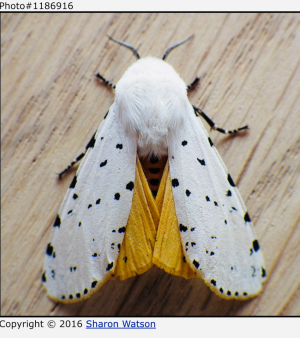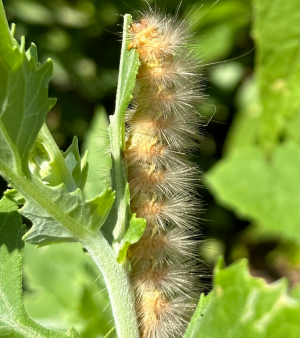 The pollinator crew added an arbor as a structure for our Bluecrown Passionflower Vine. This is a host plant for the Gulf Fritillary caterpillar. We were also excited to find two Fritillary chrysalises during the workday. Now that we have a species actively completing all stages of a life-cycle within our garden, we are only one step away from receiving a National Wildlife Federation certified habitat plaque at KOG!

Our last step will be to include a water source within the garden. Discussions regarding the addition will happen in the next several months with the hope of earning our certification in 2024.
We have many different species of plants in our garden, including:
Cannas


Shrimp Plant


Purple Vitex


Passion Vine


Orange Cosmos


Fall Aster and more!
In Fall 2022, we had our first Monarchs visit and lay eggs on the Butterfly Weed.
Get to know Amanda and Jon Schulz -
KOG members, Amanda and Jon, have been beekeeping since 2018 and started a company, Blackland Bees, dedicated to honey bee rescue, education, conservation, and pollination services. Learn more on their Facebook page and in an NBC 5 story!
Join us for a workday!
- Check back for opportunities to work together in September -